Aposerida Taverna is a family owned and run Taverna in the main street of Georgiopolis.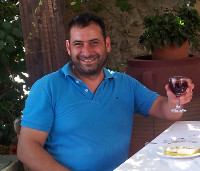 For that special romantic evening, sit beneath the Mulberry trees and enjoy the atmosphere of a traditional Greek Taverna. We also welcome families, and can accommodate small or large groups in our restaurant. We're open from 12 noon each and every day, until late.
We use only the best ingredients to produce traditional Greek and International cuisine. Many of the ingredients used in our restaurant are produced by us. In addition, all our food and drink comes from our local market and suppliers. Our family continues to farm, and is traditionally one of the main activities of Cretan families. Farming, being a seasonal activity, means that our restaurant is open from the beginning of April to the end of October, and the remaining time we spend working the land, raising sheep and producing dairy products, harvesting our own olives and herbs, such as Thyme and Oregano.
If you are interested in our own olive oil, it's usually available for purchase from the end of November through to January.
Our home produced Feta cheese is made from our own sheep's milk and to a traditional recipe handed down through the family.
The herbs we produce are freshly picked, or dried naturally to give the best flavour.
Take a look at some photographs from our restaurant, and better still, come and visit us, you'll be assured of a warm welcome.
For more information, please ask, we'd be delighted to help you.
Contact: Manousos, Taverna Aposperida, 73007 Georgioupolis, Apokoronou, Chania, Crete.
Telephone: +30 28250 61033
Telephone Mobile: +30 698 3232 752